Dust Collector
We are dust collector manufacturers like cyclone dust collector, mechanical dust collector and pulse jet dust collector. The dust collection systems have a wide application in various industries such as Automobile, Auto Parts Ancillary Units, Rubber Industry, Chemical Industry, Boilers etc. The units can also be customized as per client specifications. These heavy duty systems are equipped with high performance filtration systems and are fully assembled and pre wired unit that includes fan, controls, motor starter, filters and cleaning system.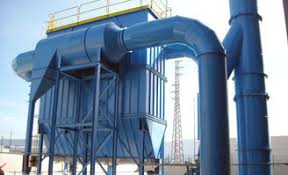 Aeppl is a wide range of Industrial Dust Collector Manufacturers and Suppliers in Coimbatore India. Aeppl dust collection system is composed of the exhaust fan, dust collector (cyclone, bag house, cartridge collector, wet scrubber, etc.), duct work, and hoods. An issue with one of these components could cause your dust collection system to fail or not work as designed. However, the dust collector is usually the most complex component and the most likely to develop issues, but is often the most neglected. Just like an automobile, proper maintenance of a dust collector could save a whole lot of issues in the future. A variety of issues can develop in the operation of dust collectors. We will discuss bag houses specifically, but cartridge collectors have very similar issues, while cyclones and wet scrubbers have their own set of items that need attention.
Bag Filters are the primary component in dust collection. If they aren't operating correctly, the dust collection will not be operating properly. The filters can fail if they get plugged up or develop holes. When plugged up, they will not let the proper amount of air through, which will cause the airflow through the system to decline; thereby, picking up less dust at the pickup points. Plugged filters can be spotted by monitoring the pressure drop across the bags or noticing less air movement at the pickup points. When filters are plugged up, they should be replaced and quickly.
We are one of the leading manufacturers of Industrial Dust Collectors in India. Our dust collectors are used in the industries for collection of the dusts and are equipped with the bag filters and aqua pits. These industrial dust collectors have heavy fabricated structure and are eco friendly in nature to save the environment from the air pollution. These dust collectors are used for the collection of the dusts and is available in wide ranging configurations. These industrial dust collectors are available in bulk with us.