Axial Flow Fan Manufacturers
Aeppl is one of the best quality
Axial Flow Fan Manufacturers
in India. Aerotech Axial flow fan are used for providing general ventilation, fume exhaust and removal of hot spots and can be as roof extractor and bifurcated fans.
Axial Flow Fan is different from Centrifugal Fans and Blowers in the method they move the air. An Axial Flow Fan uses a propeller to draw air into it and discharge it, in the same axial directions. However, a Centrifugal Blower draws the air into the inlet side of the blower housing with one of the seven types of wheel. The blower draws the air through the wheels and discharges it at 90 degree. A device that moves air with a propeller is referred to as a Fan, while one with a wheel is called as a Blower.
An axial fan is a type of a compressor that increases the value of pressure of the air flowing through it. Blades of the axial-flow fans force all air to move parallel to the shaft about which the blade rotates. In other way, the flow is axially-in and axially-out, linearly, hence its name. Designing in axial fan revolves around the design of the propeller that generates the pressure-difference and results in the suction force that retains the flow across the fan all time. The main components that need to be studied in the designing include the number of blades and the design of every blade.
Axial Flow Fan Type:
General Ventilation Purpose
Fire rated application and smoke exhaust
AEROTECH CENTRIFUGAL BLOWER
Aero Tech Axial Flow Fans are specially designed and manufacturers for optimum relation between air quantity and power consumption and to meet the exact demands of commercial and industrial ventilation in hot, humid, dusty and corrosive environments. Cylindrical casing of fans is fabricated out of Mild Steel /Stainless Steel sheet with adequate size for fine clearances as is practicable for better efficiency. Impeller will be of cast aluminum alloy and aerofoil of blade is designed to have maximum efficiency at lesser H.P.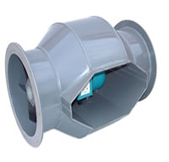 TYPE OF FANS
Tube Axial Fan (Belt Driven/Direct Driven)
Heavy Duty Wall Mounting Fan/Ring Fan
Mine Ventilation Fan/Contra-Rotating Fan
Vane Axial Fan (Belt Driven/Direct Driven)
Bifurcated Axial Fan
Power Roof Ventilator/Extractor

TECHNICAL SPECIFICATION
Air Volume up to 130000 C.M.H
Sizes from 300 mm to 1600 mm.*
Available 4,6,7,8 and 11 Blades Impeller
Available with Fixed and Variable Pitches Impeller
*Larger sizes also available on demand.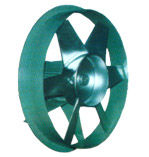 SALIENT FEATURES
Cost effective
Large air volumes
Low power consumption
Easy to install
Low maintenance
Can be connected to Duct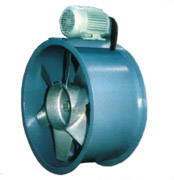 EXTRA FEATURES AVAILABLE
Available in Direct Drive and V-Belt Drive
Long and short casing
F.R.P/rubber lined
Gravity Louver/Bird Guard (Front/Back)
Special Paint Finish