Blower and Fan
CENTRIFUGAL BLOWER FANS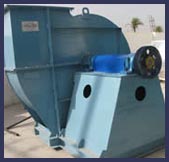 Aeppl centrifugal Blower and Fans is a mechanical equipment for moving air or other gases. These kind of fans increase the speed of air stream with the rotating impeller. They use the kinetic energy of the impellers to increase the pressure of the air or gas stream which in turn moves them against the resistance, which is caused by ducts, dampers and other component. Centrifugal Blower fan accelerates air changing the direction of the air-flow. They are sturdy, reliable and capable of operating over a wide range of condition. Aeppl centrifugal fans are constant fan speed, a centrifugal fan will pump a constant volume of air rather than mass.
Centrifugal Blower Fans are well engineered, high efficiency, Low noise air moving blowers, are manufactured with latest machineries to meet the requirement of process / clean air handling applications in Foundry, Power Plants, Engineering Industries and Cement Producing Plants.These Fans are provided with single and multiple (Parallel or series operation) impellers to suit wide range of air discharge and pressure development combinations.
Centrifugal Blower Fans are made in a wide range of impeller sizes varying from 200 to 2750mm diameter having air-handling capacities of 500CMH to 3,00,000CMH, while the pressure developed by the fan could be as high as 1500 mm WG (Reference air/gas density of 1.20 Kg./cu.mtr.).
Centrifugal Blower Fans can be fabricated in Mild Sheet Steel/ SS-304/ SS-316-L/ SS-310/ Aluminum alloy and FRP Coated at reasonably higher thickness. We provide exclusive surface finishing & coating such as Hard Chrome grounded Shaft, Enamel/ Epoxy / PU/ Rubber seal paints.
The impeller blades are multibladed construction with its blade of special contour engineered to handle varied quality air streams. Based on application/ air quality the fan impellers cans be selected.
TYPE OF FANS
High Volume Limit Load Blowers*(SISW Type)
High Volume Limit Load Blowers*(DIDW Type)
Low Pressure Blowers
Plug Fans
Medium Pressure Blowers (Backward Curved Blades)
Medium Pressure Blowers (Self Cleaning Blades)
Medium Pressure Blowers (Straight Radial Blades)
Induced and Forced Draft Fans
High Pressure Blowers
Two Stage Blowers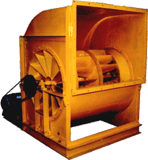 *Available in class 1,2,3 and 4 constructions.
TECHNICAL SPECIFICATION
Air Volume 2,50,000 C.M.H
Air Pressure upto 1200 mm w.g in Single Stage
Air Pressure above 1200 mm w.g in Two Stage
Temperature upto 380 C with cooling disc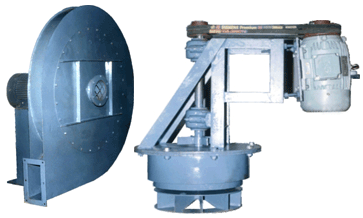 SALIENT FEATURES
Easy Maintainability
Low Power Consumption
Low Noise
High Efficiency
Customize Drive arrangements
Customize Discharge directions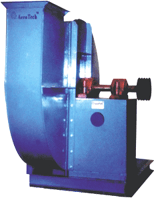 EXTRA FEATURES AVAILABLE
Available in M.S /S.S /Aluminium /F.R.P
High temperature fan with cooling disc
Drain Pug and inspection window
Horizontally split housing for easy handling
F.R.P / Rubber lining
Inlet / Outlet Dramper
Special Paint finish